Remember Hyperlinks?
Announcement
With chaos ensuing in the social media platform sector, BuffScan is only experimenting with a presence on Instagram and Threads. However, these are not being given full distribution attention and don't work well with the desktop-oriented workflow BuffScan uses. For now, I remain consistently active only at @BuffaloScan on X, YouTube, and this blog.
Latest Troubles.
Stabbing Incident at 240 West Ferry
09/23/2023
It's interesting that while I did have my phone active with the BuffScan live feed while commuting home yesterday, I didn't pay much attention to the call out for a stabbing. I did hear "stabbing", but I didn't hear or pay attention to the address of it. Had I, I might have known that I was driving head-first into a crime scene just a block or two from my house.
When I first encountered and posted media of the incident from the scene I had no idea what I was recording. I didn't associate the "stabbing" I had overheard with it (if I remembered it at all) largely, I imagine, because there was so much public safety response here, it seemed like something more dramatic than that.
In any case, yeah, I caught this post-stabbing ground footage of police and medical personnel managing the scene.
The address given in the radio call is technically the address of the Hope Refugee Drop-In Center but as there has been no MSM coverage or any police release yet to explain, I don't know if this is something that happened in the center itself, or was just some street brawl that occurred outside or around it.
---

&nbspBy BuffScan for BuffScan.
Comments (0) | Promote (0) | PermShare | Focuses (1)
&nbsp
There's Something Wrong With the Idea Of RadioReference.com
09/10/2023
I don't have an organized rant around this yet, let alone a credibly developed essay. But I'm going to drop the egg anyway to put the seed for conversation out there.
Something about RadioReference.com is bad.
Not the enterprise itelf, not the value. It is perhaps the most well run and organized digital vendor I have ever seen in fact. I wish more sites we deal with that have nothing to do with police scanning were like it in its efficiency and community engagement.
Like most any eye finding their way to these words, I love RadioReference.com!
And yet. And maybe it's because I've got my eye on this view that the original web with a million different versions of the same thing by regular people fell apart, but shouldn't have, somehow I find it a problem that in 2023 it has evolved that there is now only one place online now that centrally (red flag!) acts as a repository for all things scanning.
It's really even worse than that. When I bought my SDS200 for example, the only practical way to use it was to interface it with a web service run by ... who? RadioReference.com. I buy a commercial police scanner that the primary river of information and programming support for is some random (and again, a superior random!) entrepreneur's website, that mysteriously seems to have developed relationships with everyone in the room to make that possible. It just doesn't feel right.
Auto Dealer: Okay, here are the keys to your new car. Now, there's a guy who runs a shop in Widgetville that will service it, provide you all the programming for its features, provide you the user manuals, as he does for all the other cars sold by everyone else. Trust us, he's a great guy! Enjoy your new car!
Hm.
All right, haters gonna hate. Throw the 'matoes at me. (Hopefully this is the one time I can appreciate my totally ignored blog).
I'll concede I have not scratched the surface in all the directions that might mean this is just a silly perspective and not to be concerned, but hey, I'm allowed to post an impression and let the market correct me in doing so.
---

&nbspBy BuffScan for BuffScan.
Comments (0) | Promote (0) | PermShare | Focuses (30)
&nbsp
I Don't Think it Works That Way
08/28/2023
A Monday Perp Turkey. This video circulating in social media shows a woman accused in a Ring app post of criminal activity, outsmarting technology.
---

&nbspBy BuffScan for BuffScan.
Comments (0) | Promote (0) | PermShare | Focuses (17)
&nbsp
Response Porn Exhibit 1
08/28/2023
BFD responding to anchored boat in distress from a point at 1 West Ferry. Distressed vessels frequently trigger response vehicle traffic down West Ferry Street. This time I happened to be in a position to record.
---

&nbspBy BuffScan for BuffScan.
Comments (0) | Promote (0) | PermShare | Focuses (19)
&nbsp
Weekly Retrospect - August 20, 2023
08/20/2023
Ground Footage
Note that links to the social media content of others may require an account, login, or both to access.
FBNY (Fire Buff New York) posted to their Instagram gallery of a fire that broke out at 43 Ludington Street on 8/19 (yesterday as of this posting). Their Instagram and gallery posting related to this event are available here. They include recorded video from the fire ground scene as well.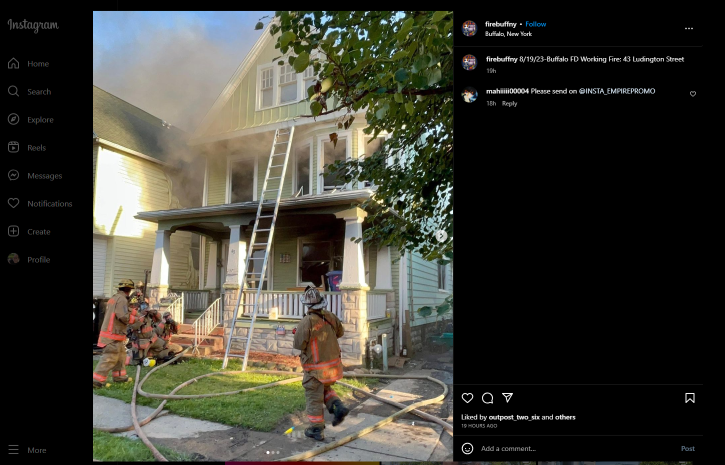 Caught on Video & Perp Turkeys
I'm calling her the Hair Bun Porch Pirate. Ring Neighbors app posters have been posting clips of what appears to be the same dogged woman sniping packages from porches. This video montage covers three incidents since July of this year and all appear to show what many Ring commentators say is the same woman. The incidents occurred between West Ferry and Allentown Streets, according to information included with each post. Assuming so, some of the commentators indicate she is already on police radar, though, clearly is "free and active" as of at least 8/17 -- which is when the clip the video starts out with was captured.
Arrested
Kenneth James was apprehended for the BB gun shooting death of Buffalo News worker Joseph Dash. Yep, you read that right: BB gun. The initial headlines, and you will notice that even the official BPD release included below, lagged a bit in describing the shooting as one done using a BB gun (I myself find that an important element worthy of distinction as it is highly unusual). Weird that someone died from such a thing but consider that between 1990 and 2000 according to one study 39 people were killed with one. A fact that James is learning the hard way. Online records show that James is being charged with manslaughter in the first degree and remains in jail.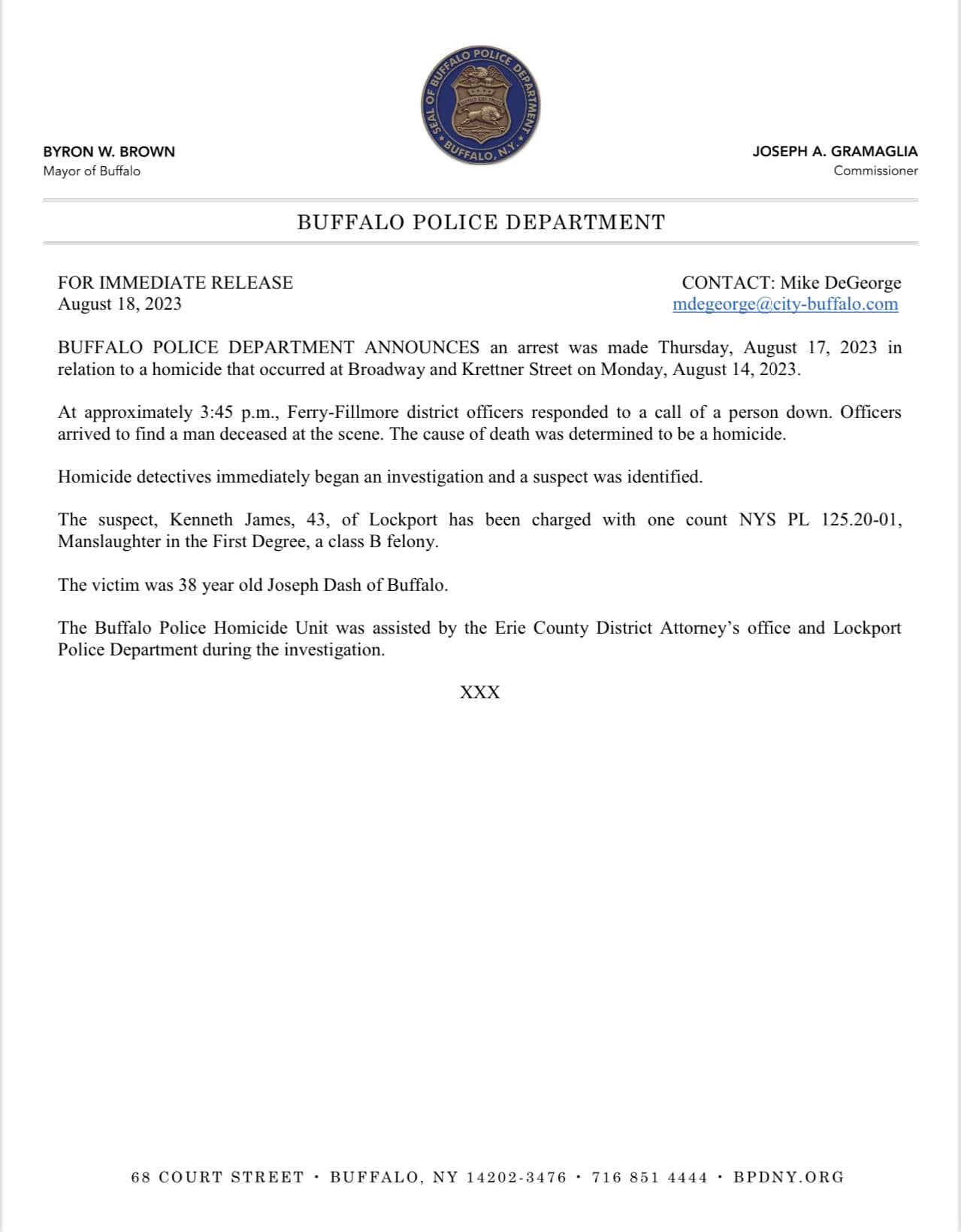 Next, Juan Rivera is (probably) in big trouble. This being more in my specific "response zone", I was able to capture this very thin footage of police as they cornered off one end of Winter Street in the West Side neighborhood to process a major drug bust at a house there. Following the video is the official BPD news release providing all the details.
In checking up on things myself, however, I find that Rivera has since been released without bail following his arraignment on 8/14. You can follow Rivera's journey as case number CR-05106-23 via New York's Ecourts system. You'll have to captcha in your ass.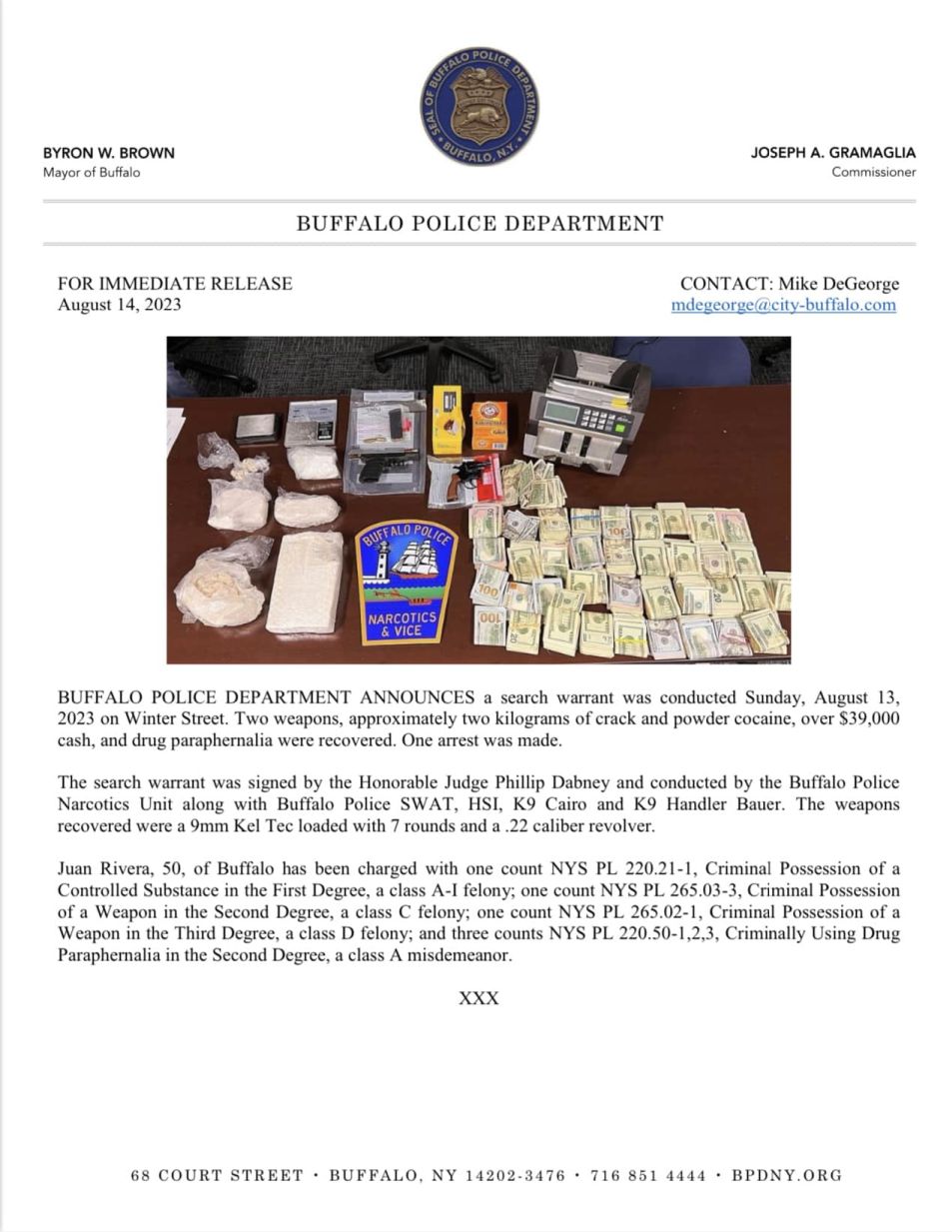 ---

&nbspBy BuffScan for BuffScan.
Comments (0) | Promote (0) | PermShare | Focuses (50)
&nbsp
My Decision is Rated X
07/29/2023
Hi everyone, BuffScan is not abandoning social media or specifically Twitter (now called X) after all.
You can read about my as-tortureous reasoning for rolling back that plan as you can the reasoning I had for trying to do so in the first place.
Although I can no longer embed Twitter feeds at this website, which was extremely handy, it is still the leading and inexpensive microblogging instrument for spot media distribution.
I also recently secured the BuffScan username on Instagram because down the road I think the Insta/Threads combination will be a better choice, though, let's face it, it is quickly becoming apparent that being "everywhere" like most professional social media managers already understand, is going to be ultimately important.
Given this pivot, my information about how to follow this blog has been updated.
---

&nbspBy BuffScan for BuffScan.
Comments (0) | Promote (0) | PermShare | Focuses (55)
&nbsp